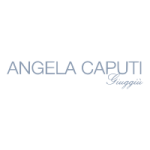 Angela Caputi established the company "Giuggiù" in 1975 in Florence.
From the very beginning she has worked and created costume jewelry in her prestigious workshop in the historical center of Florence, not far from the famous Ponte Vecchio (Old Bridge), in B.go San Jacopo.
More than half of the turn over is made in international markets.
Angela Caputi is today one of the most recognized names in the field of high fashion costume jewelry carrying the "Made in Italy" label.
Her Production and designs are precise and very distinctive.
Angela adores to mix various materials, creating always particular combinations of colours and textures.
The outcome is coloured, original jewelery, made in plastic and synthetic materials, something unique which is her personal trademark.