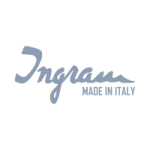 Ingram, is a leading Italian shirt brand that has always been characterized by special attention to quality and continuous research: Ingram shirts are entirely manufactured within Inghirami Company's production plants, offering a premium product that exceptional value.
The Ingram fabric selection in both the business and casual collections is incredibly extensive and at times overwhelming – using their own milled fabrics and those of the best mills available.
In addition to the business collection, Ingram also offer a very successful non-iron program called COTTON STIR with premium packaging and foldaway hangers with every shirt.