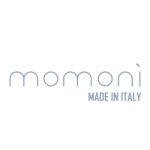 Momoni was born in 2009 with a lovely and soft pair of panties presented as a tiny jewel.
Rapidly adopted by many women, the collection Momoni is then developed by the company through an always richer world with clean and sophisticated lines.
The collection fits every day and night occasion and the choice of light and silky materials, enhanced by delicate details, expresses the special dedication and passion given to the creation of each single.