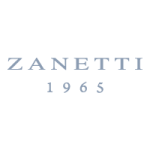 It all began in 1965, from the fusion of the experience and talent of stylist Luisa Vettori, and the commercial expertise of her husband Giuseppe Zanetti.
The adventure began in the little design studio "Confezioni Luisa".
In this small space, the skilful hands of Luisa tailored home linen and baby clothing, giving tangible shape to a dream.
Thanks to her resilience and experience, the Zanetti family began dreaming of more ambitious goals.