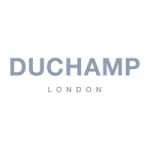 Founded in 1989, the London-based luxury goods business initially specialised in men's accessories, characterised by bold colours and flamboyant designs. The introduction of clothing in 2011 was a decisive moment for Duchamp, putting it on a path towards becoming a true lifestyle brand.
The name of the brand was inspired by the late artist Marcel Duchamp. He was a painter, sculptor, and avid chess player whose work is associated with Dadaism and conceptual art. Along with Picasso and Matisse, he was regarded as an artist who contributed significant development in painting and sculpting.
Today the brand still pays homage to its inspiration by a clever use of print and colouring techniques. Almost all fabrics are exclusive and all print has a painterly feel. There is a nod to chess, musical ideas and gentlemen's games throughout the product.