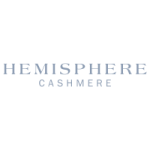 Together with their creative team, the two manage to create a contemporary knit collection every season, with innovative and imaginative designs.
Experimental material mixes, feltings and washes, unusual shapes and meticulously coordinated colors surprise the customers continuously.
It is always about the unique identity of the whole collection: everything can be coordinated and combined to create countless looks in perfect style.
As a result of their courage to always question and invent new ideas, Peter and Isabell Lochmann manage to stay innovative without forgetting HEMISPHERE's long-standing tradition.
Tirelessly looking for inspiration, both find it in the calming nature, in pulsating cities and in the people of different cultures.