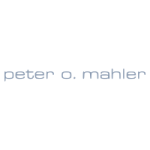 Peter o. mahler is a graduated designer, who founded the düsseldorf based private fashion trade ltd. with two partners in 1993.
The company launched the peter o. mahler collection and handles exclusively its marketing and management.
Since then, the peter o. mahler collection has established itself internationally, with customers including some 200 avantgarde fashion boutiques throughout europe, russia and the usa.
In 1997, peter o. mahler opened his first boutique in düsseldorf.
In 2000 he opened a second store in berlin, in 2008 a third one in fashionable "berlin-mitte", where he also designs and lives.
2005 was marked by the presentation of the peter o. mahler -berlin- collection. sophisticated, but still following the philosophy of simplicity in style.