RAFFAELLO ROSSI
Autumn / Winter 2020
An entire jeans collection by Raffaello Rossi is 100% sustainable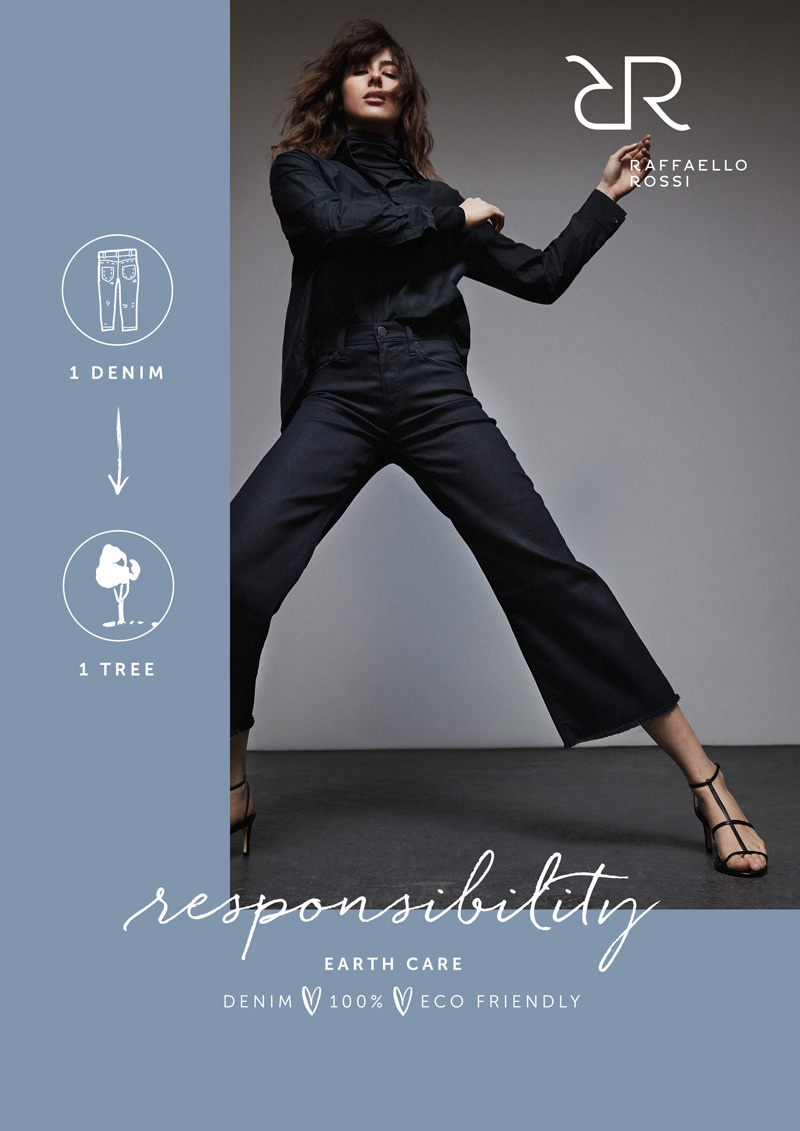 Back in spring/summer 2019, Raffaello Rossi launched the Earth Care denim capsule collection to show that sustainable denim production plays an integral part in the company's mission. And now the product team is taking further steps towards a more ecological future: with the autumn/winter 2020 collection, Raffaello Rossi is presenting not only a capsule collection, but an entire jeans range that is sustainably produced.
To make all the denims, BCI cotton is used, i.e. cotton produced by farmers who are committed to using fewer pesticides and less water during the cotton cultivation process and who promote sustainable cotton farming. Sustainability is also at the focus when it comes to the fabric production: here the company works with innovative, European facilities that are revolutionising the jeans dyeing process by using modern methods such as "Dry Indigo" (water-free foam dyeing using biodegradable chemicals) and "Kitotex "(which drastically reduces water consumption in the dyeing process by using innovative dye baths).
For the further processing and washing of the jeans, Raffaello Rossi works, for example, with sewing factories and laundries that are GOTS certified. The jeans are washed without chemicals, bleached with environmentally friendly ozone and/or finished with laser effects rather than the more environmentally harmful techniques that are usually used, such as stone washing. Another important factor is that all factories treat their wastewater in their own water treatment plants, minimising water consumption in the process.
Total water consumption is down by 80% and CO2 emissions have been reduced by 65% across the entire production process. All the chemicals used are 100% biodegradable – meaning that Raffaello Rossi premium denim can be worn with a clear conscience.
With 25 models to choose from, Raffaello Rossi denims also enable customers to play their part in protecting the environment: for every pair of jeans sold, Raffaello Rossi will plant a tree in cooperation with regional partners and international organisations such as Plant for the Planet with whom Raffaello Rossi has made an advance performance and has already planted 5000 trees.
This enables the Raffaello Rossi team to work alongside its customers to promote global reforestation and the planting of fruit trees on a regional scale. The ultimate aim is to help restore the ecological equilibrium and also support initiatives such as "Save the Bees".
About Schera GmbH, owner of the Raffaello Rossi brand:
In 1991, textile engineer Ralf Schellenberger took over his parents' sewing factory specialising in ladies' trousers and founded the company Schera GmbH. His wife Brigitte, who is still responsible for product management and design, has been by his side every step of the way. Marking a major milestone for the company, the Raffaello Rossi label was launched in 1996.
In over 20 countries, Raffaello Rossi has since built up a reputation as a premium-quality ladies' trouser label and is regarded by customers as a trendsetter in ladies' trousers with the perfect fit. The collections are available from more than 1,400 points of sale in the upmarket specialist retail sector and in the exquisite ranges of department stores worldwide.
With its completion in 2017, the company's newly constructed head office in Grosswallstadt in Bavaria, covering an area of more than 8,000 m², has paved the way for the future while reflecting the expansion of the family-run business. In the very same year, the couple's two sons, David and Tobias Schellenberger, also joined Schera GmbH.